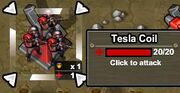 A Tesla Coil is an advanced defensive structure. The Tesla Coil was first encountered in the fight for Wesserness.
Range- 1 small square ( fires in all directions at once).
Damage- 5
Health- 20
Use long range units to destroy it.
It will kill your units with ease.
Use firecalls if you can't spare any artillery.
Attacks ANY unit (even their own).
Try to lure enemy units into its range and see the enemy fall due to friendly fire.
The Tesla Coil's turret is resembles Gap Generator from Command & Conquer Red Alert series.
This defense has a same name from Red Alert series.