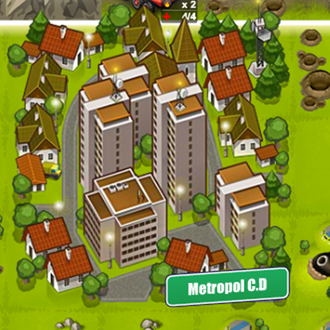 The Metropol C.D is the capital of the Homeland , Metropol C.D is the seat of power for the whole area and its influences even extend across national borders. It was temporarily oppressed by Viceroy Vile, leader of The Crimson Alliance.
Statistics
Edit
Vulnerability: The City is among the hardest to defend. Its top edge faces your very borders, thus it constantly comes under fire during an invasion. One is not advised to put operations in this city until the map Northland is purchased.
Invasion: This city uses a huge amount of guard stations and heavy rocket artillery as defence. Ensure that enough fire calls can be carried out to neutralise present defences before attacking.
Attack from the flanks to bypass some of the defences placed south of metropol.